Online Shopping: Case Study #1
Name: Andrew Martey Asare, NCF's Community Mesh Feasibility Study Coordinator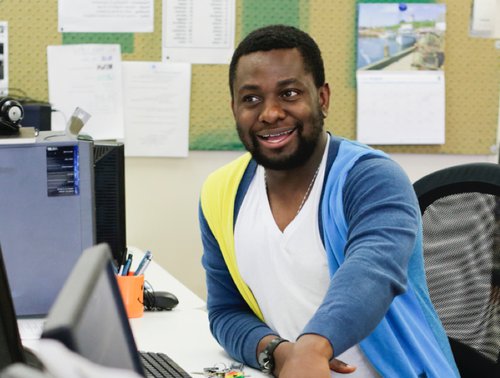 What he has bought online:
Smart TV, his wedding ring (but not his wife's), water flosser, Bluetooth speaker, mesh Wi-Fi product for friends, headphones, bamboo bath tray, clothes, plane tickets, eyeglasses, massage gun, subscription services like Netflix, Spotify for music and DAZN for sports, as well as an essential oil diffuser, charitable donations and more.
Here's how he does it:
Whenever possible Andrew uses PayPal to make his purchases and if it's not available then VISA Checkout, Masterpass or Google Pay. These secure payment portals are also called digital wallets. When checking out of an online store, the retailer will often have a link to one or more of these services, which allow him to make his payment without providing his credit card number directly to the retailer. If a store doesn't have this service, he doesn't buy from them: it's that simple.
Andrew wasn't always so strict, but then Target had a data breach and someone stole his card number to fraudulently buy almost $4000 in mobile phones, more than $3000 in new furniture and open a $15,000 line of credit. He had security alerts set-up with his credit card and was notified about the purchases before the breach was even announced. Thankfully he wasn't held responsible for the money he didn't spend, but it did make him extra careful about the risk of identity theft.

If he's shopping local, Andrew is more likely to choose a place with a physical location he can visit in case there's a problem. When buying from platforms like Amazon or BestBuy that sell products directly as well as through third party sellers, he makes sure he is buying from the company directly, by toggling off the switch that shows products from third party sellers. If he is buying from a marketplace like Ebay or Etsy, he relies on reviews and tends to keep it to smaller purchases. Regardless of the size of the business, he likes to see clearly laid-out policies on store websites for refunds and exchanges.

After Andrew makes a purchase, he verifies that it went through for the correct amount on his secure payment portal. Recently he was charged six times for the same thing! He processed a refund claim and then watched to make sure he got the cash back on his account.

Andrew does all his online shopping on the same credit card so it's easier to keep track of his purchases and nothing falls through the cracks.

He's a big believer in rewarding good service and punishing bad service. For example, he once used an online marketplace to buy a mobile phone from a third-party seller. When there was a problem, Andrew contacted the seller and the website to fix it and neither did anything to help. Luckily, he used PayPal for his purchase and they refunded him. He has never shopped from that website again, even when they have good deals.

Andrew uses a different NCF disposable email for every store he shops at. This way he can cut off emails at any time by deleting the disposable email, keep his personal email private (and help reduce the sources of spam) and help keep track of e-receipts, delivery notifications and store discount codes.

Andrew says though it may sound like a lot of work to keep safe, it's more about taking a little time to set-up some good habits. Given the hassles of being caught up in a data breach and identity theft, it's worth it!

Last thing he bought online: cloth goodie bags filled with winter treats for seniors living on low incomes.