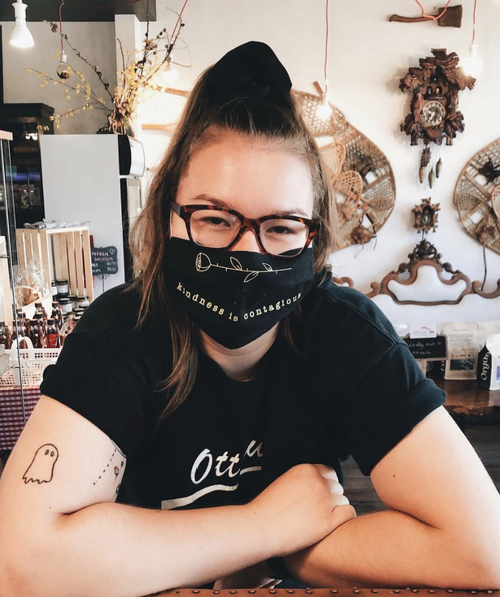 Q: Why is NCF a good fit for Britannia Coffeehouse?
A: We're a local business that thrives off community support. A lot of our regular customers live in the neighbourhood and it's nice to know that we can serve our community while they're supporting us. It feels like NCF has the same goals and that's important.
Also, the software we use to take payments, make orders, and communicate with our team is all online. We need reliable internet for all of that to be possible. With NCF, that's what we get. NCF is also cheaper than the competition!
Q: You run a coffee shop, not something most people consider when thinking of online safety. How is it part of your work?
A: First off, the safety of our customers is always our main priority. When they come to our café, they're trusting us with their information, whether it's their debit or credit card or they're using our free Wi-Fi. We need to make sure that information is always safe.
Q: What about your staff?
A: It all goes back to the idea of keeping personal information private. Whether it's their schedules, contracts, or contact information, we owe them the same level of privacy we offer our customers. Not to mention keeping our secret recipes secret!
Q: What's your advice for anyone trying to learn about being safe online?
A: Trust your gut. Except don't. If you're not sure where a link will lead or if you should trust a website, there's probably a good reason for that feeling. Honestly, when I'm not sure I have two options: if it doesn't matter, I just ignore it. If it seems more serious, I Google it to see if other people have flagged it as a scam. I remember once I got an email about a delivery, I think it was for cleaning supplies. It said that if I clicked a link I could upgrade to express shipping for free because they had some promotion going. It was pretty tempting but something about it seemed off. I Googled the email address, and it didn't even belong to the company we order from. Message deleted; problem solved.
Q: To tie things up, what's your favourite coffee site?
A: I'm a big fan of Standart Magazine. They talk about coffee news and culture and they have great designers. They also give great coffee recommendations, obviously!
Standart Magazine can be found at standartmag.com