Last updated: August 21, 2023
First posted: March 16th, 2020
NCF was founded to connect our community and we understand that access to the Internet, while always crucial, is especially important now as a connection to family, friends and work, as well as critical news and health information.
At this time, we are taking the following steps to protect the health and safety of NCF members, staff, volunteers and our suppliers, while also ensuring a continued high quality of service.
We are taking guidance on health information and best practices from both the Province of Ontario and Ottawa Public Health.
There are no current orders and instructions.
The latest updates to NCF's COVID-19 response will continue to be posted on this page as they change.
1) Office hours and remote HelpDesk support
The NCF office has stayed open throughout the COVID-19 pandemic to support our members in-person as well as by email and phone.
To ensure that staff and members continue to stay as safe as possible, particularly those at higher risk of severe outcomes from COVID-19, we continue to offer remote HelpDesk support by phone and email and other accommodations.
The office is currently open Monday to Friday 9am-7pm and Saturdays 10am-5pm for in-person and remote support. Please contact the HelpDesk at support@ncf.ca or by calling 613-721-1773 ext. 0.
We prioritize members who are out of service and appreciate your patience as we look into your issue.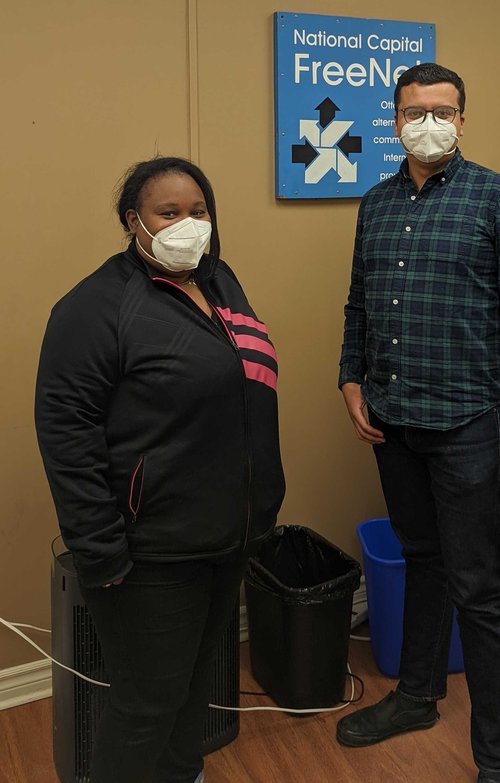 2) Symptom monitoring, voluntary masking and hand sanitizer
In responses to COVID-19 we had previously asked NCF volunteers to work remotely and also limited the number of staff working in the office at the same time. Currently, NCF volunteers are welcome back in the office and we have no limits on the number of staff working in the office.
The NCF office had mandatory masking for all staff until May/23. It is now voluntary. We provide staff access to KN95 masks.
All staff and volunteers working in the office are asked to monitor their health and to not come in to the office if they are showing two or more symptoms associated with COVID-19. We also ask members to check their own symptoms; if you have two or more symptoms associated with COVID-19, we would ask that you not come into the office but access remote support until your symptoms go away.
If members would like a disposable three-ply surgical mask to wear while in the office, please ask. Due to availability, we cannot provide KN95 masks to NCF members.
The NCF office has stopped our daily cleaning regime and removed the plexiglass barrier we had up during the peak of the pandemic. We continue to have hand sanitizer available to members and staff.
3) Modem testing and loaner modems: drop-off and delivery options
If you need to drop-off your modem for testing or configuration, you can bring it into the office when we are open.
If you drop off a modem to be tested or reconfigured before 1pm, it should be ready for pick-up by appointment by 4pm the same day, please confirm with the HelpDesk.
If you are not able to drop off your modem or can drop it off but not pick it up, we can ship it using using Canada Post Expedited delivery, which takes 1-3 business days. Shipping is $15. We will send the tracking information, but cannot guarantee delivery timing.
If you wish to purchase a new modem at this time, you can pick it up during office hours or we can ship it to you.
5) Payment options
We accept cash, cheque, debit, and credit card payments at the office. We continue to accept VISA and Mastercard credit and debit, e-transfers, cheques, money orders and pre-authorized debit as remote payment options. There are more details here: help.ncf.ca/Payments_and_Donations
6) Unlimited usage
We're happy to say we have offered our members unlimited bandwidth since 2017, ensuring no one feels they need to limit their internet usage or risk being charged for overages.
7) Continued investment in our network
It has always been a priority for NCF to ensure there is no congestion on our network and we carefully monitored total member usage during particularly busy times so we could adjust as necessary.
Given the importance of a reliable internet connection, especially during the lockdowns of COVID-19, we also invest in network redundancy and resilience.
In the Fall of 2021 NCF added cable internet services for those who want faster speeds, up to 1024/50Mbps. If you wish to troubleshoot your current speed or upgrade to a higher speed, please contact the HelpDesk at support@ncf.ca or call 613-721-1773 ext. 0.
8) Digital skills
NCF continued to offer informal digital skill support to our members throughout the pandemic, but suspended our in-person workshops to focus on our core internet services.
In the summer of 2023 we received additional funding from the Ontario Trillium Foundation Resilient Communities Fund to build back our capacity to offer digital skills workshops and other digital skills resources, available online as well as in-person. We will keep you posted and please email workshops@ncf.ca with any suggestions you have for topics you'd like to see covered!
9) Adaptability
Because things can change quickly, we are prepared to change with it as necessary. We will keep members up to date on the NCF StartPage, via our Facebook page and Twitter account, and on this page.
Please take care and feel free to contact us if you have any questions.
Thank you,
Shelley Robinson
Executive Director
National Capital FreeNet
execdir@ncf.ca
(613) 721-1773 ext. 1001