Catherine (Cathy) Wenuk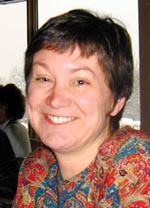 A year ago several NCF members encouraged me to serve on the Board of Directors of NCF, explaining that it would be an opportunity to "give back" to the community by putting my experience at the service of a worthwhile 'grassroots' enterprise. I became a candidate and was elected to a one-year term at last year's AGM. It has been a challenging and rewarding year, so much so that I am asking that your support for another term.
I have learned a great deal about the operational aspects of NCF during my first term. I am more convinced than ever that NCF's success depends on its members, both in terms of supporting its services and by providing donations. We must find ways to facilitate contributions of time and effort from people willing to assist in the day-to-day functions as well as in major projects important to NCF's future. The ongoing concerns to improve NCF's profile in the community by providing better services have kept me both busy and interested in the work I've done to date. I recognize that there is still work to be done and improvements to be made. I seek your support to help "make it happen".
I grew up in Alberta and studied both at University of Alberta and University of Calgary where I received a B.A. and a L.L.B., respectively. I articled at the Court of Appeal of Alberta and at Burnet, Duckworth and Palmer (BDP) law firm where I continued to work as a lawyer until 1991. From 1991-2001, I worked with the Immigration and Refugee Board of Canada (IRB) both as in-house counsel and as a member deciding cases before the Refugee and Appeal Divisions.
What skills will you contribute to the NCF Board?
Team management, interpersonal skills, and identifying, analyzing, and deciding issues. These skills enable me to monitor and evaluate the merit and progress of projects put forward to the Board of NCF for comment or approval. My efforts at teamwork were rewarded when Directors elected me Second Vice-President and a member of the Executive Committee.
What do you think are the most important functions of NCF for its members?
NCF's commitment to provide reliable dial-up internet connections will be enhanced with new services not usually associated with internet service providers. Its role as a meeting ground for like-minded members of our community is another important function of the NCF.
Why do you want to be an NCF director?
At the end of my first year with NCF, I feel I've only begun to appreciate the scope and importance of NCF to our community. I want to use my experience to expand on some active and responsible stewardship to ensure the continued viability of NCF.
Congratulations to NCF and its members for tremendous successes to date.
Cathy Wenuk