Executive Director's Report
For the year of 2020
2020 Report
The COVID-19 pandemic changed so much about the world we live in. This report covers some of how it affected NCF in 2020 — both as a not-for-profit committed to digital equity, and as an internet service provider —and how we adapted and keep adapting.
This past year highlighted the importance of the internet as a tool to connect us to work, school, family and friends, entertainment, healthcare, government services and so much more. We're thrilled we were able to provide that lifeline to our members.
The recently released StatsCan Canadian Internet Use Survey 2020 showed the uptick in Canadians who used the Internet to work from home (43%), make online voice and video calls (64%), search for health information (69%), and watch streamed video content (83%).
Read the whole report here: statcan.gc.ca/n1/daily-quotidien/210622/dq210622b-eng.htm
It was also a year that laid bare the effects of the digital divide and how it mirrors and amplifies other social inequities. In a year when libraries and coffee shops with free WiFi were closed, those who don't have access to affordable home internet were being left behind.
To underscore this, the same Statscan report showed significantly lower than average internet use among seniors, those with disabilities, people living in rural areas, Indigenous people, and those without employment.
We wish we could have done more to help bridge the gap. But these are systemic challenges that require fundamental shifts. That said, we are proud of what we were able to do through our Community Access Fund as well as advocating for regulatory change, helping improve digital skills, and looking for alternative models based on community connection over profit.
Before we get into the details, I would like to thank all NCF members, staff and volunteers (which includes the volunteers on our Board of Directors) who supported NCF this past year. We appreciate your flexibility, your patience, your engagement with our mandate and business model.
COVID-19 response:
As an essential service, NCF remained open throughout the shutdowns, taking steps to make sure visiting members and in-office staff could be safe.
This meant transitioning to a team of staff and volunteers who mostly worked remotely while keeping a small team in-office. It included rearranging the office to allow for social distancing, stocking hand sanitizer, masks and air purifiers, increasing hand washing, and instituting a daily cleaning regimen.
We had a more than 30% jump in internet usage and more than 15% increase in HelpDesk support tickets almost overnight when the first lockdown began in March/20. We were able to support the additional capacity on our network but it took a while to get on top of the ticket volume, especially during a time of staff turnover and having to hire and onboard new staff remotely. Since then, the HelpDesk has been at its highest staff capacity ever.
We did reduce in-office hours throughout the pandemic and are looking to expand our hours back again sometime later this year.
Special shout-outs to the HelpDesk team during this time, including staffers Luke Deschenes, Younes El Bakri, Sully Beauplan, Naftali Shani, Eric Adu Boahene and former HelpDesk team members James Ouzas, Sophie Vu and Denis Bedard Charette.
And thanks to our regular volunteers Kai Kestinen, David Ehman, Michael Wong, Nader Hussain, and Ian Gorman. We have been working on developing a new bilingual online training portal and hope to launch it soon to recruit and train even more community volunteers!
Membership: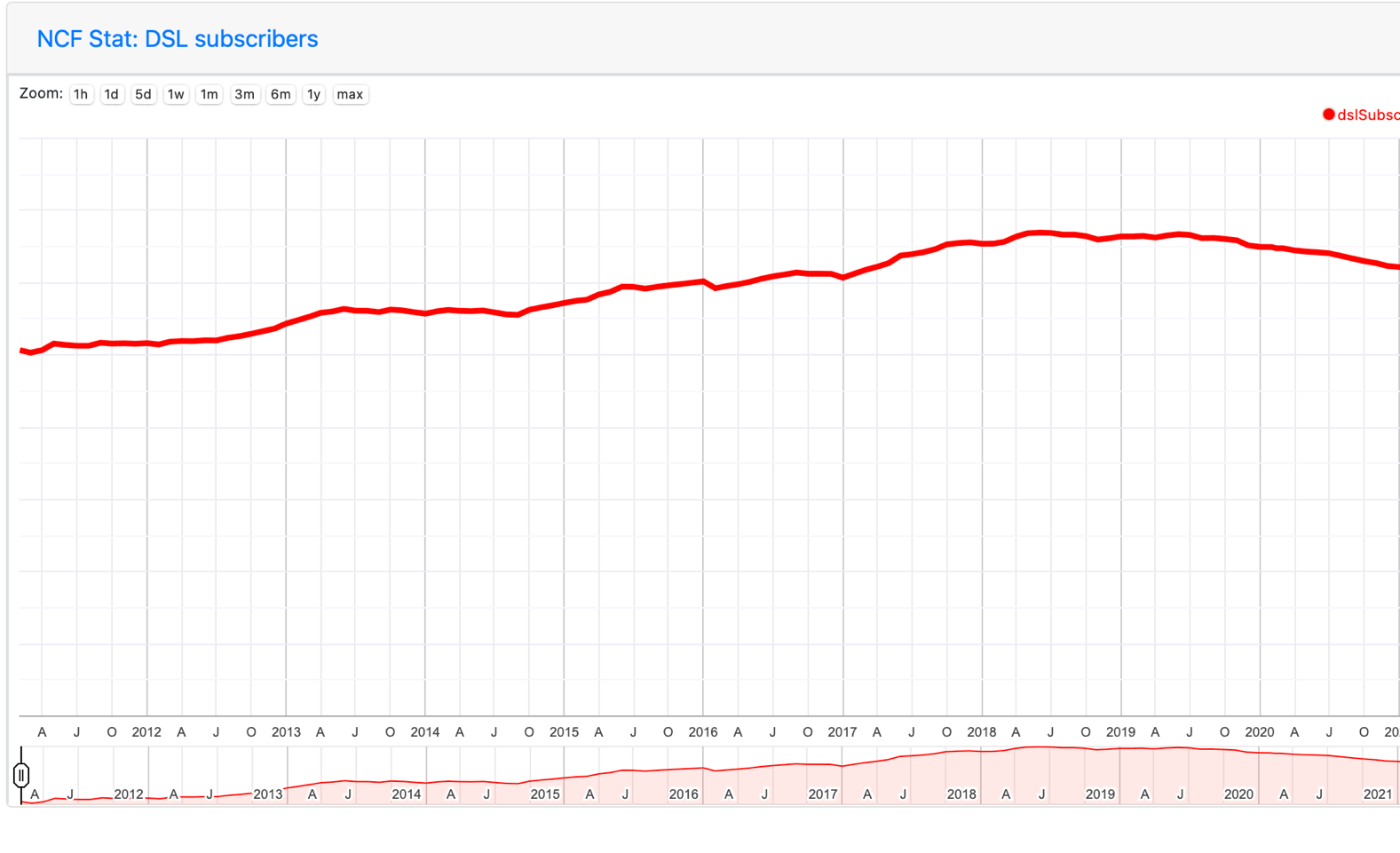 We started 2020 with more than 5000 members, 3248 of which subscribed to our DSL services. Of these, 300 members subscribed to our lower-cost Community Access Fund plan for Ottawa Community Housing tenants. During the year we had 381 new DSL members join but lost 490 DSL members and so ended the year with 3109 members, a net loss of 139 members.
This was a substantial slide which we attribute, in part, to many members upgrading to faster speed services at a time when more people used the home connection for work and school.
Unfortunately, Bell infrastructure does not deliver 25/10Mbps or 50/10Mbps speeds in all neighbourhoods we serve. In fact, our experience has been that DSL infrastructure is actually reducing in some neighbourhoods.
Membership retention and growth is a significant goal moving forward. This is part of why starting to offer cable internet is so important.
In 2020 we established a relationship with a supplier, sourced and tested modems (which are noticeably more expensive than DSL modems), developed the system tools to offer it and troubleshoot any problems, and began alpha testing the service with some office staff in preparation for the member beta test earlier this year.
We recently sent out a cable internet survey to members, if you haven't answered it yet, you can find it here:
survey.ncf.ca/en/survey/16/ (for DSL members)
survey.ncf.ca/en/survey/17/ (for non-DSL members)
Thanks to Operations and Development Manager Nathan Medema, System Developer Dylan Ferris and System and Network Administrator André Dalle for all their work on this project.
Digital equity, communications and advocacy:
For us, digital equity means that everyone in our community has access to affordable high-quality internet that they understand how to use, while feeling safe online. This allows for full participation in our society, democracy, and economy.
This past year we launched our new front-end website (and made significant changes to our back-end system) to better serve existing and prospective new members, as well as showcase our digital equity initiatives and our unique history as a not-for-profit Internet Service Provider. Thanks to System Developer Dylan Ferris and former Service Operations Manager Will Robson for their work on the new website. The website is now also bilingual for the first time!
A significant focus of our digital equity work this past year was our partnership with the Social Planning Council of Ottawa (SPCO) to start the Digital Equity Ottawa Coalition. This work brings together different stakeholders to address the overlapping needs for digital literacy, affordable connectivity, access to connected devices and strengthening the digital capacity of the non-profit sector. It includes a feasibility study for building a community mesh network to serve low income neighbourhoods in Ottawa and the possibilities for connectivity in rural parts of Ottawa and the surrounding counties.
Thanks to United Way East Ontario for funding this project and the team at SPCO, including Dianne, Stefka, and Heather, who worked with Andrew to make this happen. Our digital equity coalition building and exploration of alternative connectivity models like a community mesh network continues to be a priority for us beyond the life of the current funding. We expect the report will be finished and publicly available sometime in July/21.
In 2020 we also started the bilingual #InternetIntelligence campaign to increase knowledge of online safety and digital privacy, developed by Rami Hilan and Katie Llorens and funded by the Association des communautés francophones d'Ottawa (ACFO).
We hoped to transition some of our digital literacy workshops online, but it hasn't happened yet because of staff capacity and so many competing priorities. We plan to do this in 2021, as part of some funding we received from the New Horizons for Seniors Program.
During 2020 we also joined the #GetCanadaConnected Coalition, which rallied around the statement that "every person in Canada must have affordable high speed access to the Internet. All levels of government must immediately take steps far above and beyond their current commitments to get everyone online as soon as possible and mend Canada's digital divide." This is part of what laid the groundwork for us participating in the Affordable Internet Day of Action in March/21.
Finally, 2020 is also the year that we made tangible statements in relation to NCF's commitment to anti-racism; diversity, equity and inclusion; and reconciliation as central elements of our work towards digital equity. Thanks to Karine Habboub and Sophie Vu for their help in drafting these statements. Karine also offered a series of anti-oppression workshops to staff and volunteers during our Lunch and Learn sessions, and we established an Anti-Racism Action Fund for staff and volunteers to use for donations to relevant organizations or to buy books related to these topics.
This work continues as Board and staff develop policies to implement what the statements lay out as guiding principles.
Finances and pricing:
After significant deficits in both 2018 and 2019, we worked hard in 2020 to ensure that we were able to post a small surplus in 2020.
The difference between 2019 and 2020 included careful management of staff resources, donations and increasing grants, but it also reflects that we raised prices in April/20, just as the pandemic began. It was a tough decision but necessary to ensure the ongoing sustainability of the organization.
Most of our DSL rates had been untouched since 2017 and while we aim to keep our prices stable, this was untenable when usage was growing, supplier incentives dropped substantially, and other costs were rising.
This was an industry-wide problem, and I was interviewed about this by Canadian Press, carried by the Ottawa Citizen and Globe and Mail, among others.
Modem sales were also up this year as more people upgraded their connections, but modems are becoming more expensive with smaller margins and take a significant amount of staff time to test and configure.
Overall, our DSL services continue to be supported by donations and some grants, and while we want to keep our prices low, we are trying to work towards a model where our internet sales cover their own costs, including overhead and administration, as well as contributing to our other digital equity work.
We had hopes that some of our structural concerns about the high cost of wholesale prices would be addressed in 2020. In August 2019 the CRTC released final wholesale prices which were much lower than the interim rates we had been paying since 2016. The big telecom incumbents like Bell, Rogers, Telus, Shaw and others appealed this decision to the Federal Court of Appeal, the Governor in Council (cabinet), and back to the CRTC.
Most of 2020 was spent waiting on the outcome of these appeals, a degree of regulatory uncertainty that made it tough to makes business predictions or take big decisions.
In August/20 then-Minister Navdeep Bains of Industry Canada announced the government would not overturn the CRTC's rate drop. In September/20, the Federal Court of Appeal dismissed the appeal of the big telecom companies in favour of the dropped rates. This decision was upheld in early 2021 by the Supreme Court.
But we know now that on May 27/21, the CRTC reversed its own decision, keeping prices at their original high rates. We are still working through our response to this about-face and its implications.
Staff and volunteers:
There was a fair amount of staff turnover in 2020. We said goodbye to former Bilingual HelpDesk Analyst Toufik Zaoui, Senior HelpDesk Analyst James Ouzas, Service Development Manager Will Robson and Bilingual Volunteer and Outreach Coordinator Karine Habboub.
We were able to informally transition some of our HelpDesk volunteers to remote work pretty quickly, but plan to formalize this work moving forward, including using our new bilingual Learning Management System, implemented by Karine.
Bilingual HelpDesk Analyst Younes El Bakri transitioned to part-time work as he went back to school, and former Service Operations Manager Andrew Martey Asare left for a few months before returning as the Community Mesh Development Coordinator.
We welcomed Nathan Medema in June as our new Operations and Development Manager, who really had to hit the ground running, as well as Bilingual HelpDesk Analysts Sully Beauplan and Denis Bedard Charette in the Fall.
Thanks to Sophie Vu, Rami Hilan and Katie Llorens for their contract work over the Summer and Fall, funded by the Canada Summer Jobs program.
Donations, grants and other fundraising:
Thanks, as always, to all our members who donate to support our services. In 2020 members donated $62,054 to support our email and digital literacy services, the Community Access Fund and our original dial-up service. It makes a world of difference to what we can accomplish.
We also benefited from a number of grants in 2020, including from the Bilingual Ottawa program of Association des communautés francophones d'Ottawa (ACFO), the continuation of our bilingualism funding through the Department of Canadian Heritage's Official Language Support Program, and Service Canada's New Horizons for Seniors Program, although we postponed this work by a year.
As mentioned, we also partnered with Social Planning Council Ottawa on a digital equity and community mesh feasibility project funded by United Way East Ontario.
Finally, we were able to access some COVID-specific funding through the government's Temporary Wage Subsidy and received a loan through the Canada Emergency Business Account (CEBA). Of the $40,000 borrowed through CEBA, up to $10,000 is forgivable. In 2021 this account was extended to $60,000 borrowed, up to $20,000 forgivable.
Cultivating resilience:
In September 2022, NCF will celebrate our 30th anniversary. Considering the challenges and lessons of COVID-19 and this coming milestone, we are thinking ahead to how we can continue and grow our work.
Here's some of what we hear from members most frequently:
You value NCF as a community provider, but you also need us to remain affordable and provide fast, reliable internet;
You like the personalized service of the HelpDesk, and COVID showed that getting a quick response is key;
You're proud of the Community Access Fund and want us to expand the ways we can help those living on low incomes;
You want us to do more advocacy to the CRTC and the government around affordability and other digital equity issues, and you want to help;
You want us to stay on top of changing technology;
More workshops;
More information on spam and other online security issues;
We should work to keep NCF as transparent as possible;
If there's something else you think is important for NCF to consider moving forward, be it a specific suggestion or a broader area of focus, please let me know by emailing me at shelley@ncf.ca. I will share all responses with the Board of Directors.
Thank you again for being an NCF member,
Shelley