Executive Director's Report
For the year of 2014
New Services
Early in the year, we introduced an array of new high-speed services (ranging from 7 to 50 Mbit/s) that allowed NCF to meet the growing bandwidth needs of our members. We also introduced a low-cost 2 Mbit/s service for dial-up users to enjoy the benefits of high-speed access.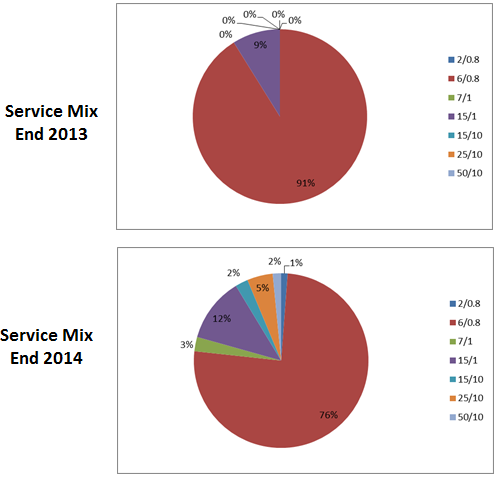 Increased Capacity
In August, we increased network capacity and revamped our network architecture to lay the groundwork for future capacity increases and to improve the robustness of our network. We also negotiated a new business arrangement for Internet bandwidth which allowed us to double our network bandwidth for roughly the same cost. We have also increased the capacity on each link regularly to keep ahead of demand. We hope that everyone is enjoying the improved performance.
Increased DSL Membership
After a period of decline in the first 8 months of the year, we finished the year with solid, sustained DSL membership growth. We set new records for DSL membership despite extremely aggressive competition from Bell and other ISPs. It shows that there is indeed a place for a community-oriented ISP like NCF and it gives us confidence heading into 2015.
Infrastructure Renewal
Our infrastructure at Carleton is showing its age and we have embarked on an update plan starting in early 2015. All of our servers need software upgrades to remain current and supportable. In addition, we will be updating hardware to improve performance and reliability.
The Bandwidth Challenge
Going forward, increasing bandwidth usage and the associated costs pose our most significant technical and financial challenges. This is not unique to NCF and affects all ISPs.
In 2014, total average DSL usage increased 44% mainly due to the widespread use of video streaming services such as Netflix. We anticipate similar growth in 2015 and new physical network capacity will be required again later in the year which will significantly increase our costs. Other ISPs have dealt with this problem by increasing rates and limiting speeds during busy hours. We, too, will need to evaluate the potential impact on our own service plans and rate structure.
Summary
2014 was a very challenging year for NCF with many problems to tackle but they were successfully overcome.
I would like to thank the board, the staff and especially the volunteers for making all of the above (and much more) happen and for their help and dedication throughout the year.
Above all, I would like to thank the membership for their support and for sticking with us while we were dealing with the issues.
Thank you everyone for making 2014 a success and for making a difference in the community!
Nick Ouzas
Executive Director
National Capital FreeNet